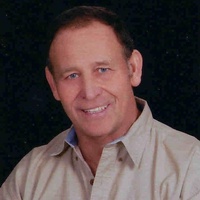 Mr. William Eugene "Bill" Thomas of Trumann, departed this life Saturday, May 12, 2018 at Flo and Phil Jones Hospice House in Jonesboro at the age of 69 years, 10 months and 24 days. He was born Friday, June 18 1948 in Jonesboro and had lived in Trumann since 1994 and was formerly of Wynne, Ark. He owned and operated Bill's Cleaners and W. & W. Appliance in Wynne for many years; Marine Corp. veteran of the Vietnam War and a member of the First Baptist Church in Trumann. Mr. Thomas was preceded in death by his father, William "Alvie" Thomas; step-father, J. P. "Pug" Sutterfield and one brother, Marvin Thomas.

He is survived by his wife of 50 years, Cheryl Ann Hill Thomas of the home; one son, Keith Thomas and wife Cindy of Jonesboro; two grandchildren, Ali and Makenzie Thomas; mother, Opal Thomas Sutterfield of Bay; two sisters, Doris (Fred) Yeager of St. Charles, MO., and Dolores (Bryan) Sutterfield of Trumann and one brother, Freddie (Paula) Thomas of Willford, Ark.

Funeral Service will be held on Tuesday, May 15th at 10 a.m. at the First Baptist Church in Trumann with Rev. John Maley and Rev. Kenneth Doke officiating. Burial will follow in Pine Log Cemetery in Brookland, Ark.

Serving as pallbearers will be Lee Watson, Carl Wise, Jimmy Furnish, Roy Rooks, Bill Pagan Gary Rudder and Larry Hall. Honorary pallbearers will be Bob Kitterman and Larry Rawls.

Visitation will be Monday evening from 5 p.m. to 7 p.m. at the First Baptist Church, 1301 Hwy 69 West, Trumann, Ark. 72472.

Memorials may be made to the First Baptist Church, P.O. 575, Trumann, AR 72472.

An online register book can be signed at www.thompsonfuneralhome.net.

 
Print Obituary